Cupertino City Council applauds Apple's new spaceship campus [VIDEO]
Cupertino City Council had Steve Jobs present Apple's new campus plan, praising the 'spectacular' design of a new spaceship building.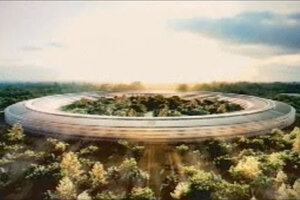 Youtube screen capture/Apple Inc
Cupertino City Council had a special guest on Tuesday. Steve Jobs took center stage during the council meeting, causing many in the room to become star-struck.
The Apple CEO, who is currently on medical leave, came before the council to present Apple's proposed new campus, which is just blocks away from their existing campus.
Jobs said their current campus in Cupertino holds "maybe 2,800 people" but that they would like to build a massive new building on a nearby plot of land that Apple recently bought from HP. Apple's real estate move is not of major interest in and of itself, and did not necessarily warrant Steve Jobs' appearance. What got Jobs excited enough to make this appearance was the design of the new campus.
Instead of a series of buildings to hold the 12,000 employees, Apple is going to put them all in one building. Just as one would expect from the design-focused company, the new Cupertino campus building will be a feast for the eyes. Shaped like an elegant donut, the building was described by Jobs as a 4-story "human scale" structure, built with the "biggest pieces of glass in the world for architectural use."
Jobs went out of his way to stress how green the campus aspires to be, noting the increase in the numbers of trees and landscaped area, the use of a natural gas-powered "energy center" to power the entire campus 24/7, and the company's biodiesel employee shuttles.
---