Follow Jim Rogers? Why this dollar 'bear' is buying greenbacks now.
Investor and author Jim Rogers is known for his pessimism about the dollar, given high levels of US debt. But he said Friday that he's buying them now in the short term. What gives?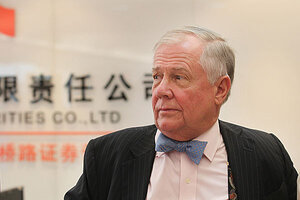 c40/ZUMA Press/Newscom
When investor Jim Rogers talks, people listen. On Friday he talked a lot, saying that despite his pessimism about the US dollar he's become a buyer of greenbacks during what he expects will be a short-term rally.
But he also said that other US investments, such as stocks, look too risky to hold. Mr. Rogers is actively betting that US technology stocks and one "big, big, big" American bank will go down in value.
In comments during an interview with Tom Keene on Bloomberg Television, he declined to name the bank. The dollar was rising as he spoke.
Oh, and for good measure he said both President Obama and Federal Reserve Chairman Ben Bernanke should resign.
"The fundamentals are horrible for the US dollar," Rogers said, citing a soaring national debt and Fed policy that results in near-zero interest rates for Americans who save money in a bank.
Think of Rogers as a kind of American George Soros, with a mild Southern accent.
Not that Rogers is a clone of Mr. Soros's political views, but both are big-name investors who have been known to make bold bets on currencies and other assets that most people don't put in their brokerage accounts.
---