Southwest Airlines sale: More $40 flights ahead?
Southwest Airlines is letting travelers go from, say, Seattle to Boise or Albany to Baltimore for $40. Some experts say the move by Southwest Airlines could spark a fare war in the industry.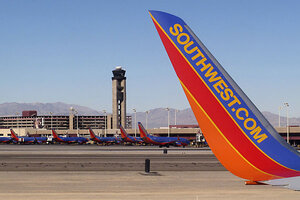 Ted S. Warren/AP/File
It's only a three-day sale, but a move by Southwest Airlines to sell one-way flights for as little as $40 is sending a big message: A new round of fare wars may be on the way.

On Tuesday, Southwest Airlines announced bargain rates on tickets for hundreds of its US routes, with one-way prices of $40, $80, or $120 for flights taken between Aug. 23 and Nov. 16. The sale lasts through Thursday.

For $40, fliers can go one-way from Seattle to Boise, Albany to Baltimore, or Cleveland to Newark, among many other examples.

Industry analysts say it's a sign that, even after taking steps to fly fewer routes and keep planes fuller, airlines still don't have an easy time selling seats in the current soft economy. Many Americans want to travel, but their plans are price-sensitive.

Meanwhile, a jump in fuel prices over the past year has squeezed airlines, pushing their costs up and prompting them to raise fares, which in turn can crimp demand for tickets.
---
Follow Stories Like This
Get the Monitor stories you care about delivered to your inbox.