Ultraflex jobs: You choose hours, venue
Some companies even let you decide how much time off to take. The result is more productive workers, not less.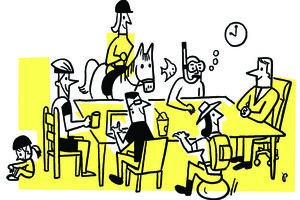 Phil Marden
If long hours at the office are ruining your personal life – or 9-to-5 just seems too robotic – take heart: There's a whole new way to work. Call it the ultraflex job.
Consider the deal at Ryan LLC, a Dallas-based accounting firm that employs 900: Since 2009, professional employees have been able to work anywhere, anytime, as long as their tasks get done. Support personnel do have to report to the office to keep the place humming. Still, they coordinate schedules with each other and with supervisors.
"Companies that cling to traditional approaches to managing the workforce are already behind the curve," says Delta Emerson, Ryan's chief organizational development officer and leader of the team that created the three-year-old program, called myRyan.
At DMC Athletics & Rehabilitation, 95 percent of staff members make their own hours, and employees enjoy unlimited vacation, reports David Cunic, the founder and president of the 14-person physical therapy facility, based in Cedar Knolls, N.J.
Performance bonuses, which averaged $4,800 per staffer last year, help prevent abuse of DMC's innovative structure, Mr. Cunic says. "We're not here to baby-sit," he says. "You get your work done and go home."
---