Unemployment rate rises to 9.2 percent. Just a 'soft patch'?
US economy added just 18,000 jobs in June, a sign the recovery is dragging. The unemployment rate rose from 9.1 to 9.2 percent. Still, most economists see a pickup in second half of 2011.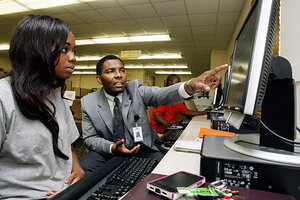 Rogelio V. Solis/AP
America created just 18,000 jobs in June, raising new concerns about an expected revival of economic activity during the year's second half.
That preliminary number for June, released Friday by the Labor Department, showed sharply lower job creation than the 80,000 gain that economists had generally predicted.
The US unemployment rate rose to 9.2 percent, versus a consensus view among forecasters that the rate would remain unchanged at 9.1 percent. Adding to a drumbeat of disappointment, the Labor Department revised down its tally of job gains for two prior months.
Professional forecasters still generally predict that the US economy will regain some momentum in the year's second half and continue to grow, though at a modest pace. June could be just a bad month, near the end of a disappointing "soft patch" for the economy, before that expected pickup begins.
But the sour labor report prompted some new doubts about that rebound scenario. At a minimum, it serves as a reminder of the slow pace of job creation in the economic expansion that began in the middle of 2009.
So far, economic growth has fallen far short of a pace that would steer the nation back toward full employment after deep job losses in the Great Recession.
"The economy must add 13.7 million jobs over the next three years – 382,000 each month – to bring unemployment down to 6 percent," University of Maryland economist Peter Morici wrote after the Friday numbers were released. "Considering layoffs at state and local governments and likely federal spending cuts, the private sector jobs must increase at least 400,000 a month to accomplish that goal."
---