Report: More Americans have green jobs than oil or gas jobs
Clean energy and other parts of the 'clean economy' account for 2 percent of US jobs, employing some 2.7 million Americans, according to a recent report.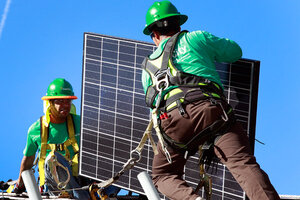 Tony Avelar / The Christian Science Monitor / Newscom
Throughout his term, President Obama has repeatedly heralded clean energy and the industries that surround it as being a vital element of America's economic future. Many Republicans, meanwhile, have questioned environmental regulations that would promote the "clean economy" as job killers that unduly penalize mature industries more central to the US economy.
But what is the reality of "clean" jobs in the US? A recent study by the Brookings Institution and Battelle Technology Partnership seeks to answer that question.
"Clean" industries ranging from public mass-transit to green energy companies provide 2 percent of the jobs in the United States, according to the study, which was released last week. The number pales in comparison to sectors like health care, which accounts for 10.2 percent, but it is more than other key industries such as biosciences and oil and gas.
The data provide an important baseline for understanding what the clean economy brings to the broader US economy, and give a sense of how the sector might be likely to grow in the years ahead.
---