Detroit has radical plan: Raze the dead in Motor City
Detroit officials have a radical plan to reduce the geographic size of the Motor City and concentrate its population in a more dense core.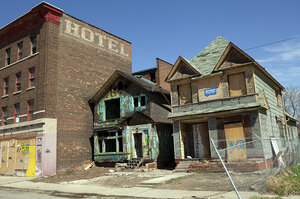 Melanie Stetson Freeman/Staff
Dealing with dramatic population loss means one fundamental challenge: What to do with all the abandoned buildings?
There are 100,718 vacant addresses in Detroit, which represents about 10,950 acres, or 12 percent of the city.
"There's blight all over the place," says Detroit Mayor Dave Bing. "The first thing we have to do is clean it up."
In 2010 Mr. Bing announced he wanted to demolish 10,000 vacant and deteriorated homes by the end of his term in December 2013, an unprecedented goal for a major city. So far, 3,000 have been razed since last year, and the city expects the same number will fall by the end of this year. To get the job done, the city secured $20 million in federal funds from the US Department of Housing and Urban Development.
Bing had an unofficial "blight summit" with New Orleans Mayor Mitch Landrieu in February 2011. The Ford and Kresge foundations funded the meeting to get the mayors brainstorming about a problem their cities both face, for two very different reasons. While New Orleans has also suffered a gradual population decline in recent decades, hurricane Katrina accelerated the exodus in 2005. US Census data show New Orleans' population dropped to 343,829 in 2010, a 29 percent loss in 10 years. Detroit is at 713,777, a 25 percent dip since 2000, and less than half its population in the 1950s.
---