Retooling the Motor City: Can Detroit save itself?
A retooling plan for Detroit – involving controversial razing, shrinking, and repurposing – is under way as the Motor City tries to save itself.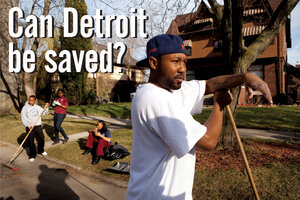 Melanie Stetson Freeman/The Christian Science Monitor
For Dewayne Hurling, the American dream can only happen in Detroit.
Three years ago, the tow-truck driver purchased a vacant six-bedroom, 1928 mansion in the city's historical Boston-Edison neighborhood, where Henry Ford once lived. He bought it for less than $200,000, and for Mr. Hurling, life is good: Each of his six children has their own spacious bedroom, the grand staircase features custom-made woodwork illumined by a handcrafted chandelier, the third floor is an elaborate home theater, and the carriage house is now his immaculately detailed "man cave" that allows him to spend down time with his dog.
Raking leaves on his front lawn with his children, Hurling says his new neighborhood reminds him of the well-kept, close-knit Detroit neighborhood he grew up in, and which he says now has deteriorated so badly that "it looks like Beirut," pocked with empty lots and damaged by crime. Like-minded young parents who are rediscovering stately manors that need families to bring them back to life are slowly gentrifying his new neighborhood, where he feels he finally has a safe home for his children.
"I'll never move out of this city [because] there's still neighborhoods like this," he says.
To outsiders, Detroit remains the stereotype of urban America gone wrong. Over the past half century, an exodus of manufacturing jobs, racial unrest, institutionalized corruption, inadequate schools, and government teetering on bankruptcy have racked the city.
---
Follow Stories Like This
Get the Monitor stories you care about delivered to your inbox.