Post office cuts: Is your post office on the list?
The Postal Service is looking at cutting up to 3,700 of its nearly 32,000 post offices. Virtually every major US city would lose post offices.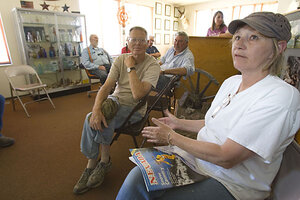 Ross Andreson/Elko Daily Free Press/AP/File
The U.S. Postal Service is eyeing some 3,700 post offices for possible closure as a way to cut its financial losses as mail volume declines.
And the locations under consideration aren't just dinky offices in one-stoplight towns. They include post offices in virtually every major city in the United States: from the post office in New York's Port Authority to the one in the Hollywood Pavilion in Los Angeles – from Commerce station in downtown Minneapolis to its location in the Civic Center in Houston.
To find out which locations might be closed near you, click here for a complete listing by state.
Some states could be hit harder than others. Big states like California, New York, and Ohio have a little over 100 locations on the Postal Service's "study list" for possible closure. But Pennsylvania – with 203 locations on the list – could be especially hard hit. Texas has the most locations under threat: 222.
But for many, the downsizing is overdue. The Postal Service has already pared its retail outlets from 38,000 to under 32,000 in the last decade. It lost $8 billion last year.
"I'm all for having a successful business," says a postal worker in Minneapolis, who supports the cuts but declined to give his full name because he wasn't authorized to speak to the press. The cuts should have been implemented a year or more ago, he adds, but "it's hard to get anything done. By the time something gets done, it's way longer than it takes in the private sector."
---
Follow Stories Like This
Get the Monitor stories you care about delivered to your inbox.