US reports a drop in jobless claims. Is this the beginning of something?
Weekly unemployment claims dropped below 400,000 in the most recent report. While some see this as a signal that the economy is firming up, others caution that more positive indicators are needed.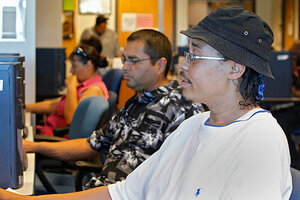 Ed Andrieski/AP
In a glimmer of good economic news, the Department of Labor reported on Thursday that the initial claims for unemployment dropped to 398,000 for the week ending July 16.
This is the first time in 15 weeks claims have dipped below the 400,000 level, a benchmark many economists use to gauge the health of the labor market.
A broader measure of unemployment claims, the four week moving average fell to 414,000 and continuing claims also dropped to 3.70 million from 3.72 million.
Some economists interpreted the falling claims numbers as an indication the economy has finally started to move away from the soft spot it appeared to hit in late spring and early summer. This would mesh with the consensus economic view that economic performance will start to improve in the second half of the year.
"What these numbers seem to be saying is that the decline in the economy has stopped," says Joel Naroff of Naroff Economic Advisors in Holland, Pa. "The question is do we go anywhere from here?"
On Friday, the government will release its first estimate of second quarter Gross Domestic Product (GDP). Early estimates are that it will show the economy growing in the vicinity of 1.3 percent to 1.6 percent on a seasonally adjusted annual rate. This would reflect some of the softer economic data.
---