Hot dog lawsuits: Will real wiener emerge?
Kraft Foods, the maker of Oscar Mayer hot dogs, and Sara Lee, manufacturer of Ball Park franks, begin court proceedings this week in hopes of ending a three-year legal dispute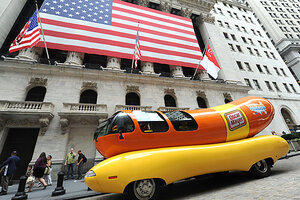 Diane Bondareff / AP Images for Oscar Mayer / File
Every lawsuit has its losers. But rare is the case with wieners on both sides.
America's two biggest hot dog brands, Oscar Mayer and Ball Park, began to duke it out in a Chicago federal court on Monday, in a bid to end three years of legal wrangling over advertising allegations.
The dispute began in 2009 with a national hot dog taste test by Kraft Foods, maker of Oscar Mayer hot dogs. It advertised that Americans prefer their dogs over Ball Park franks. Sara Lee, which owns Ball Park franks, sued, saying that its hot dogs weren't prepared and served properly in the test.
But that's just the start of it.
Each company is also contesting claims that the other has made about its own frankfurters. Kraft says it's Jumbo Beef Franks are made with "100 percent pure beef," which Sara Lee says is misleading. And Sara Lee claimed in a 2009 ad that its hot dogs are "America's Best Franks," and that other hot dogs "aren't even in the same league." Here, Kraft would beg to differ.
---