Stocks plunging? Don't hide. Seek.
Stocks may be chaotic, but they also offer opportunities if you look in the right place. Plunging stocks now make some sectors appealing.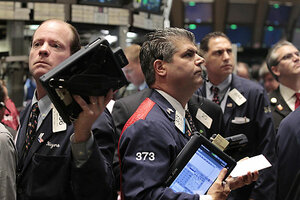 Brendan McDermid/Reuters
First, the Greek debt crisis spreads to Portugal, Spain, and Italy. Amer­ica's debt gets its first downgrade since World War II. Then the stock market plunges. What's a prudent investor to do?
If your first instinct is to run for the hills, don't do it, investment pros say. Those looming defaults by European governments – and perhaps other nations – may have a silver lining. That's because the same dynamics that have imperiled sovereign debt obligations might also be creating new opportunities.
What investors have to do is find those areas of investment that will outperform in an era of slow growth and possible government defaults. The debt crises point the way.
"What the sovereign debt issues highlight is not just a particular country's ability to pay or make good on its obligations, but rather the rate and pace of global growth," says Lincoln Ellis, chief investment officer for Strategic Financial Group, a Chicago-based money management firm. "Those kinds of structural dislocations do in fact create opportunities for investors."
So where should you look? Bill Morse, senior vice president of Chicago-based Ziegler Wealth Management, likes the high-end retail sector, because the wealthy have shown an enduring appetite for luxury items, such as jewelry from Tiffany & Co. Mr. Ellis favors so-called defensive stocks, such as makers of consumer staples, along with broad market indexes that he says have been "oversold" recently. Jim Kee, president of South Texas Money Management in San Antonio, sees value in handpicking individual stocks that enjoy a competitive advantage in critical industries, such as computer security.
---