Despite rush, you can still get Missoni at Target
Demand for Target's new Missoni-designed products overwhelmed its website and jammed its stores. But the rush didn't clear out all the Missoni items at Target.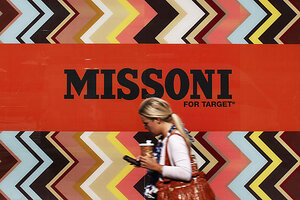 Shannon Stapleton/Reuters
Consumers rushed Target stores and jammed its website Tuesday for clothes, accessories, and home products from high-end Italian knitwear designer Missoni. The demand was so huge that it crashed the Target website, left many store shelves bare, and outdid a typical Black Friday, the Minneapolis-based retailer said.
But don't worry: You can still get Missoni couture at Target.
The website is back up and running. Local stores will get periodic shipments of the merchandise through Oct. 22 (when the limited promotion is scheduled to end).
Even though many of the products were cleaned out during Tuesday's launch, especially adult clothing and accessories, discount fashionistas can still get their Missoni fix. As of Wednesday morning, these items were still available on the Target website:
Bathing suits: Swimsuit season may have come and gone, but you can still get Missoni swimsuits on the Target website, including a black and white one piece and multicolored two-pieces. Sizing is limited, however.
Baby clothing: There are several pieces of clothing for baby girls and toddlers available, including printed trench coats, sweaters and leggings.
---