Cantaloupe recall: Colorado farm linked to listeria
Cantaloupe recall issued in 17 states after officials find listeria in Jensen Farms melon. Cantaloupe recall involves 300,000 cases of fruit typically with green-and-white or gray-yellow-green stickers.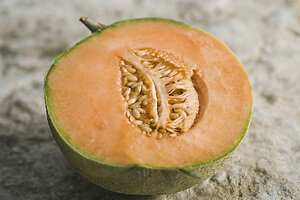 Laurence Mouton/Altopress/Newscom/File
A third-generation farm in eastern Colorado is recalling its entire cantaloupe harvest after one of its melons tested positive for Listeria, a bacteria that state and federal officials have linked to two fatalities and at least 20 other infections in seven states.
Pregnant women, older adults, and others believed to be at high risk for listeriosis should not eat cantaloupes from Jensen Farms in Holly, Colo., the Centers for Disease Control and Prevention recommends. Others wanting to reduce exposure to the bacteria should put the suspect cantaloupes in a sealed bag and throw them away, the CDC says.
Jensen Farms shipped more than 300,000 cases of the cantaloupes to 17 states between July 29 and Sept. 10. The states are: Arizona, Colorado, Illinois, Kansas, Minnesota, Missouri, Nebraska, New Jersey, New Mexico, New York, North Carolina, Oklahoma, Pennsylvania, Tennessee, Texas, Utah, and Wyoming.
---