Miami Hurricanes vs. Ohio State: Who won the sanctions game?
Miami Hurricanes, in trouble with the NCAA, play Ohio State Buckeyes, already sanctioned by the NCAA. So who won in terms of financial sanctions?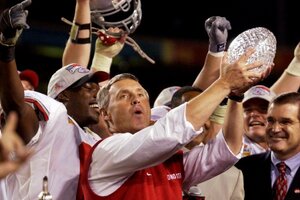 Paul Sakuma/AP/File
The Miami Hurricanes and the Ohio State Buckeyes, two storied college football powerhouses that have recently run afoul of the NCAA, go head to head Saturday night. We'll know by the end of the night which team is superior on the field. But when it comes to losing money as a result of their respective NCAA investigations, which team will be the winner (loser, actually)?
Here's how the teams stack up:
Ohio State
The crime: The Buckeyes came under fire last year when players traded autographs, championship rings, and equipment for cash and services at a Columbus tattoo parlor. Head coach Jim Tressel knew about the incident for months, but failed to suspend any of the offending players.
The price: Ohio State forfeited all of its wins from the 2010 season, and the implicated players – Mike Adams, Daniel Herron, Devier Posey, Solomon Thomas, and Terelle Pryor – were suspended for the first five games of the 2011 season (Pryor left the Buckeyes to try his luck in the NFL). Those players had to repay the illicit benefits: Adams had to pay back $1,000; Herron $1,150; Posey $1,250; Thomas $1,505; and Pryor $2,500, according to an Ohio State press release.
---