Wall Street calm ahead of Federal Reserve 'twist' to tweak economy
Indications that Greece might not default on its debt, as well as reports that the Federal Reserve has a new plan to stimulate the economy, prompted a solid day on Wall Street.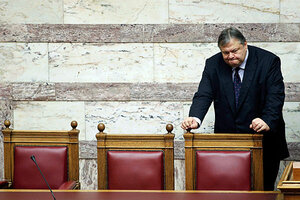 Petros Giannakouris/AP
On Tuesday, the stock market started to become slightly less apprehensive over the prospects for Greece receiving some kind of bail out and slightly more open to reports of a new Federal Reserve plan to tweak the economy.
Although there was no concrete news, the Greek finance minister indicated negotiations were going well for the country to get another round of financing that would stave off default. At the same time, investors also began to focus on the upcoming International Monetary Fund and World Bank meetings this weekend when finance ministers from around the world will gather.
"People are feeling a little bit better about Greece," says Sam Stovall, chief investment strategist at Standard & Poor's in New York.
That drove the Dow Jones Industrial Average up by more than 100 points for most of the day. However, a spate of profit taking at the end of the day resulted in the Dow gaining only 7.65 points for the day.
Also Tuesday, investors began to view more favorably the prospect that the Federal Reserve will on Wednesday announce its intentions to try to lower long term interest rates in the weeks ahead.
---