Meg Whitman as the HP CEO? She'd have a tough job.
Former eBay CEO Meg Whitman reportedly is the choice of the troubled company's board to replace the current HP CEO, Leo Apotheker. Despite her past achievements, some question whether she is up for the daunting task.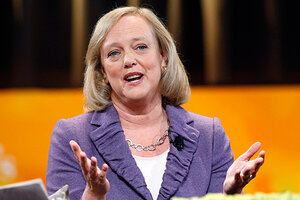 Mario Anzuoni/Reuters/File
The struggling technology giant Hewlett-Packard may soon have a new chief executive officer – and it looks like the switch can't come too soon.

Former eBay CEO Meg Whitman has emerged in news reports as the possible choice by HP's board to replace current CEO Leo Apotheker, perhaps as soon as Thursday evening. With Hewlett-Packard stock down 50 percent since February – and down even in Thursday morning trading after her name was floated – Ms. Whitman would enter the job with a formidable task ahead.
Turning around America's largest high-tech company (measured by annual revenues of some $128 billion) is a very different task from expanding a young startup in the arena of online auctions.
That's not to say Whitman is the wrong choice to lead HP. She has an impressive pedigree of past achievements, from managing various consumer brands (at Procter & Gamble and Hasbro) to growing eBay into a company with a market value of $40 billion.
Many industry analysts and investors greeted her name with optimism, and HP's stock decline on Thursday came as US stocks generally were taking a dive on concerns about the economy.
---