HP and Meg Whitman: signs of a Silicon Valley in transition
HP, as Silicon Valley's biggest and most mature corporation, is more big business now than Silicon Valley startup. Meg Whitman has to help HP figure out which way to go from here.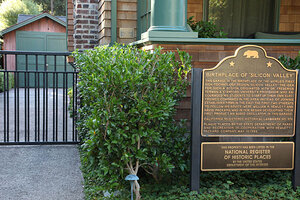 Newscom/File
Long the symbol of Silicon Valley, HP could now be coming to represent new challenges facing America's idea factory.
From the days in 1939 that Bill Hewlett and Dave Packard founded their venture in a one-car garage in Palo Alto, Calif., Silicon Valley has been the province of the young and brilliant. From Hewlett and Packard to Apple's Steve Jobs and Facebook's Mark Zuckerberg, Silicon Valley thrived by producing young entrepreneurs who understood the needs and wants of individual consumers and how to meet them through technology.
But HP is now America's largest high-tech company with revenues of $126 billion, and its recent troubles in finding an effective CEO reflect a company caught between the Silicon Valley way and a more traditional model for big business.
In short, HP has until now remained a player in the printer and PC market that made it famous, but it has also expanded into business-to-business platforms. The difference is fundamental, and as Silicon Valley's most mature startup, HP is perhaps the first to face this transition – thinking more about the needs of General Electric or General Motors than the general populace.
---