Which career for you? Nobel winner offers advice.
Which career is right depends on a lot more than money. If you're trying to decide which career you want, MIT economist Peter Diamond has some ideas.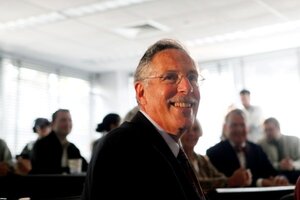 Stephan Savoia/AP/File
Career advice from a Nobel laureate? Economist Peter Diamond of the Massachusetts of Technology usually spends his time researching topics like public debt, taxation, and market imperfections (for which he won the 2010 Nobel), but he took some time out to talk about how students should shape their work life. Here are excerpts:

1. Which career is right for students in this challenging economy?

Mr. Peter: First, find something you are genuinely interested in. Pay attention to the projections of what areas will have jobs but, in my view, finding a job that you enjoy is going to matter more in the long haul than moderate differences in level of pay. Finally, think of your career as an experiment. Always evaluate what is happening, how you are interacting with other people, and how you are interacting with the work. Think about whether you can learn something that you can do better. Experiment and try different things.

2. How did you realize that economics was the field for you?

Peter: It is important to recognize that whatever you start out of college is only just a start. It is generally not something that will last a lifetime right away.
I had nothing to do with economics as a child. I had no exposure to economics whatsoever. I loved being at college because it was so much more interesting and challenging then high school had been. I started out with engineering, but I didn't like that so I became a math major. I had no idea what a mathematician does on a daily basis. I just became a math major because it was a subject I liked the best and did the best in. Going to grad school was a no-brainer. In part, I liked academics. Also, if I hadn't gone to grad school I would have been drafted. I started grad school in math, not economics. I took both and decided which was a better fit.

3. How should students prepare for careers when the relevant skills are constantly changing?

---