Reebok refund: You might get shoes for free
Reebok refund involves its toning shoes, which federal government says were deceptively advertised. The size of the Reebok refund could be up to $100 for a pair of shoes, about what consumers paid for them.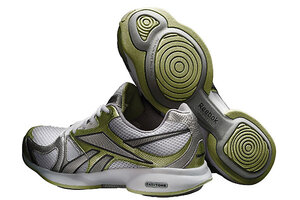 Business Wire/File
If you bought Reebok's EasyTone walking shoes, flip flops, or apparel, or any of its other toning shoes, you're eligible for a refund.
It's not clear how big the refund will be because, among other things, the Canton, Mass., company doesn't know how many consumers will submit claims. Reebok said Wednesday it was setting aside $25 million to settle false-advertising charges from the federal government.
The Reebok refund could mean that some consumers will, in effect, get their shoes for free.
For example: The refund for shoes could be less than $50 or up to $100, depending on how the money works out. Since Reebok originally sold the shoes for $80 to $100 a pair, a big refund could mean no net cost for the toning shoes.
Similarly, people who bought EasyTone pants could get less than $40 or up to $80; the EasyTone tops could be less than $25 or up to $50.
The specific shoes eligible for a refund are: EasyTone, RunTone, TrainTone, JumpTone, SimplyTone, SlimTone, as well as the EasyTone Flip. The apparel eligible for a refund are: EasyTone capri, pants, shorts, long bra top, sleeveless shirt, and short sleeve top.
Use this online refund form for your Reebok refund.
The refund comes as a result of Federal Trade Commission charges that the company deceptively advertised its toning shoes as providing extra tone and strength to leg and buttock muscles. The FTC said the claims were unsupported.
---