Debit card fees: Why Bank of America will charge $5 for debit card use
Debit card fees on the rise: Bank of America to charge $5 for debit card usage. Other banks may follow suit.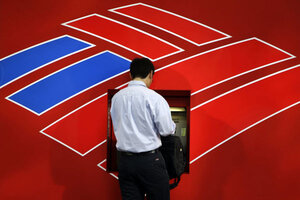 Chuck Burton/AP/File
In early 2012, Bank of America customers with basic accounts will be charged a $5 monthly fee for shopping with their debit cards. The fee will be charged whether customers choose 'debit' or 'credit' at the point of sale.
ATM usage fees will remain the same, and those customers who do not shop with their debit card will not incur the $5 monthly fee.
Why is Bank of America making this move? It certainly fits a trend: ATM fees have been rising, bounced check fees have been going up, and free checking accounts are fast becoming a thing of the past.
The move is partly prompted by a new federal regulation, starting Oct. 1, that will begin limiting the cut banks can take from merchants at the point of sale. Bank of America is expecting the new lower rate to reduce the revenue that those merchant fees currently bring to the bank. In 2009, those fees amounted to $19 billion in revenue.
So in other words, Bank of America is shifting a part of the fee obligation from merchants to customers.
Sen. Dick Durbin (D) of Illinois responded bluntly to Bank of America's announcement: "After years of raking in excess profits off an unfair and anti-competitive interchange system, Bank of America is trying to find new ways to pad their profits by sticking it to its customers," Senator Durbin said Thursday. "It's overt, unfair and I hope their customers have the final say."
---