Occupy Wall Street: Unions join protests. Will message change?
Union support offers Occupy Wall Street protesters organization and supplies. But will union involvement change the Occupy Wall Street movement's message?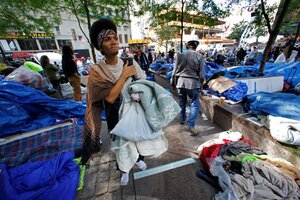 Bebeto Matthews/AP
In New York City and beyond, the Occupy Wall Street movement is starting to get support from organized labor and, with it, access to important resources. But the support could change the focus of the loosely knit group, making it even harder for organizers to rally around a single message.
Several New York area unions endorsed the movement, making plans to join in on Occupy Wall Street rallies.
In Boston, the Greater Boston Labor Council endorsed the movement as did the Massachusetts Nurses Association.
And at least one international union, the Amalgamated Transit Union ATU in Washington, D.C., with union locals in the United States and Canada, pledged its support.
"The ATU applauds the Occupy Wall Street activists for their courage and strength to expose the greed and corruption on Wall Street as the rest of America struggles to survive," said ATU President Larry Hanley in a press release.
Until now, the "Occupy" protests have operated as a loose coalition of activist groups, with varying messages across different rallies. Union involvement could be just what it needs to coalesce into a unified movement.
---