Ford workers edge closer to nationwide strike over labor deal
United Auto Worker members at a Ford plant in Chicago overwhelmingly rejected a proposed labor deal Thursday, leading union leadership to prepare for a strike. All UAW locals have until Tuesday to ratify the deal.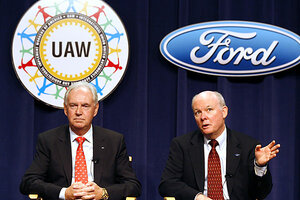 Gary Malerba/AP
The possibility of Ford's first national strike in 35 years became more of a possibility Thursday when members of the United Auto Workers (UAW) in Chicago rejected the company's proposed four-year contract.
Nearly 41,000 UAW members at Ford have until Tuesday to vote on ratifying the contract, which the company says helps give it better leverage among its competitors and will make it easier to hire new workers.
But 77 percent of the 2,317 workers at Ford's Chicago assembly plant rejected the contract. That followed Tuesday's news that 51 percent of the 4,000 workers at UAW Local 900 in Wayne, Mich., also rejected the contract.
The UAW is not releasing overall vote count, meaning that the votes at individual locals are coming out piecemeal. In at least one instance, union members have strongly backed the deal, with 64 percent of the 2,000 workers at UAW Local 228 in Sterling Heights, Mich., approving the contract Thursday.
But opponents of the deal say they believe they have the upper hand. Scott Houldieson, the secretary-treasurer of the Chicago local, told Reuters he believed the nationwide "no" count is leading.
The contract is heavy on signing bonuses and profit-sharing in lieu of widespread wage increases.
UAW members complain wage increases for second-tier, or newer, workers are not high enough, and they also criticize the contract for not including a cost-of-living allowance. They say the concessions are not in line with what workers were forced to give up during the past four years.
Another point of contention: the $26.5 million in compensation earned by Ford CEO Alan Mulally last year.
---