'Bill shock': Are voluntary warnings against extra wireless fees enough?
The wireless industry is being told by the FCC to curb 'bill shock' notifying consumers when they are about to be charged extra for going over monthly limits for voice, data, texting, and roaming.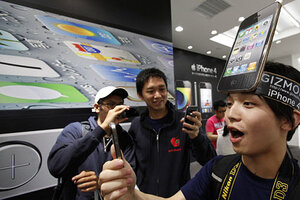 Shizuo Kambayashi/ AP
The wireless industry is being told to notify consumers when they are about to be charged extra for going over monthly limits for voice, data, texting, and international roaming. But the new rule, issued by the Federal Communications Commission (FCC) Monday, is only voluntary – leaving the regulation toothless according to critics who say the industry is not policed enough to prevent consumers from unscrupulous billing practices.
The announcement temporarily halts a stiffer FCC proposal to prevent what consumer advocates term "bill shock" – or sudden increases resulting from unexpected overcharges.
Last year, the FCC released a survey that showed about 30 million wireless customers received bills that jumped unexpectedly from the previous month even though they made no changes to their voice, text or data plans. Over half said the increases were at least $50 and none received warnings. The agency also reported that it received over 764 complaints from consumers in the first six months of 2010 connected to unfair overcharging.
The wireless industry however has long opposed federal regulation, saying that they already give customers several options to track their minute and data usage and that imposed rules would harm market growth. Instead, they advocate for more voluntary regulation, which they say is more effective in protecting consumers.
In a press conference with reporters Monday, FCC Chairman Julius Genachowski said last year's mandatory notification regulation proposals were "put on hold" and he suggested that now they might not be necessary as the industry "understands there's no upside" to non-compliance. Mr. Genachowski also said the FCC will launch a website that will track the variety of alerts each carrier provides to its consumers.
Similar legislation was proposed last year by New Mexico Sen. Tom Udall (D) that would require carriers to issue free alerts to consumers when they used up 80 percent of their monthly limits. The bill is pending in committee.
---