Social Security: seniors to see COLA increase in 2012
After an unprecedented two years of no cost-of-living adjustment, Social Security is poised to boost payments in January, a private group calculates. Social Security COLA will be between 3.5 and 3.7 percent.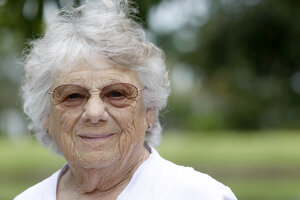 Wilfredo Lee/AP/File
After two years with no increase in Social Security benefits, senior citizens should see a cost-of-living adjustment in January, a nonprofit group says.
The exact size of the COLA is yet to be determined, but it should be somewhere between 3.5 and 3.7 percent, according to a new report from the American Institute for Economic Research (AIER), a nonprofit research group based in Barrington, Mass.
COLA is a measure that ensures Social Security benefits keep pace with inflation.
Why is that such a big deal? Before 2010, COLA had gone up every year since 1975, the first year that COLA increases went automatic. The size of the COLA automatically adjusts itself based on the annual percentage change in consumer prices. When consumer prices go up, COLA goes up.
But by the start of 2010, in the aftermath of the Great Recession, consumer prices over the 12 previous months had dropped. And before COLA could increase again, consumer prices had to be higher than they were at their peak. That didn't happen for 2011.
"It's important to remember that the typical older American today lives on an income of roughly $20,000, and Social Security keeps nearly a third of older Americans out of poverty," said Tiffany Lundquist, spokeswoman for the AARP, a Washington-based advocacy group for seniors, in a statement. "After two years with no COLA and increasing costs for food, utilities and health care, every dollar of the modest average benefit of $14,000 is critical."
---