Carson Kressley eliminated from DWTS. So who'll win?
Carson Kressley departure leaves seven DWTS contestants. But only two have a good shot at winning the DWTS trophy.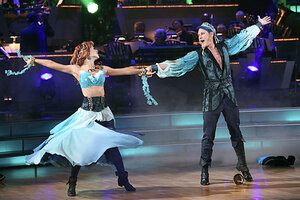 Adam Taylor/ABC/AP/File
Carson Kressley has been jettisoned from the ballroom. Sad news for many of his fans, including a few deeply entrenched in the world of ballroom dancing.
"I enjoy watching Carson, because he makes me laugh," says Angela Prince, public relations director of USA Dance, the nonprofit governing body for ballroom dance in the United States. "He's definitely not reserved. And he's not the best dancer out there, but he's giving it everything he's got."
But Mr. Kressley was the worst of the lot technically, and his low judges' scores finally caught up with him. So who, realistically, has a shot at winning the contest?
Left to fight it out for the "coveted" Mirrorball trophy are TV lawyer Nancy Grace, activist Chaz Bono, talk show host Ricki Lake, actor David Arquette, USA soccer goalie Hope Solo, reality TV star Rob Kardashian, and Army veteran turned soap opera actor J.R. Martinez.
No clear front-runner had emerged in early weeks. But now, halfway through the competition, it's down to two stars, Ms. Prince says.
---