UAW agrees to contract with Ford: How much did the union give up?
UAW workers at Ford from across the US voted late Tuesday to accept a four-year contract with the automaker. The vote pitted today's labor costs against future union membership.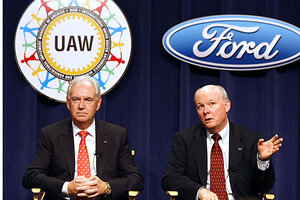 Gary Malerba/AP
Ford auto workers from across the US voted late Tuesday to accept a four-year contract with the automaker.
The deal was controversial enough that, by late last week, the union was preparing its members to strike.
The vote to finally accept the contract, agreed to by 63 percent of its 41,000 members, resulted in a harsh reality check – the recognition that an increase in labor costs today might shrink union membership in the future.
Union members originally wanted annual pay raises but were offered profit-sharing bonuses, inflation adjustment payments, and other incentives considered less risky for the automaker, collectively totaling $16,700 per worker through 2015.
Workers were upset that FORD CEO Alan Mulally received a $26.5 million pay package for 2010 when they were forced to sacrifice benefits and raises during the industry's most severe economic downturn in history.
Also a bitter pill union members had to swallow: the controversial two-tier salary structure, which, established during the 2007 talks to bring down labor costs, forces incoming workers to accept a lower pay rate than veterans, a dynamic that contradicts the union's goal of equitable pay for all workers.
Analysts say that conceding much of what they had originally wanted, Ford workers ratified the contract because they understood a strike would prevent the United Auto Workers [UAW] from expanding membership, especially if the automaker cut future jobs in order to pay for upfront labor costs.
---
Follow Stories Like This
Get the Monitor stories you care about delivered to your inbox.