Tim Tebow: ticket-booster ... for the Dolphins?
Tim Tebow boosts ticket sales for Miami vs. Broncos: two of the NFL's worst teams. Is there anything Tim Tebow can't sell?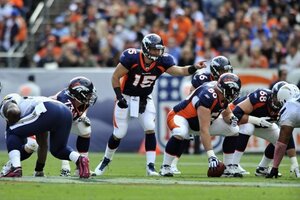 Jack Dempsey/AP/File
He may be playing for the opposing team this weekend, but Tim Tebow is scoring big for the Miami Dolphins in terms of ticket sales.
Since being named the Denver Broncos' starting quarterback last week, replacing a struggling Kyle Orton, Tebow has helped the Dolphins sell an additional 10,000 tickets to Sunday's game against the Broncos. The former University of Florida Gator and native Floridian is a beloved legend in his home state, and thousands of Gator fans are expected to make the five-hour drive from Gainesville to Miami to support their hometown hero.
"The demand and interest in the game certainly has picked up since the announcement," Dolphins CEO Mike Dee told the Associated Press on Wednesday. "Clearly this matchup and the buzz that's out there have helped with tickets."
Tebow's start, which, strangely, coincides with a celebration of his own 2008 National Championship-winning Gator team, means there will be a higher number of non-Dolphins fans in the crowd than usual. Financially, however, that's welcome news for the home team. The struggling Dolphins have managed to sell enough tickets to avoid local TV blackouts since 2003, but the team's dismal record over the past few years has resulted in declining ticket sales and apathy among fans.
---