Chaz Bono out on DWTS: Star power isn't enough
Chaz Bono, not a great dancer, had great fan support on 'Dancing with the Stars.' But as the pool of contestants narrowed, the judges' scores became more important.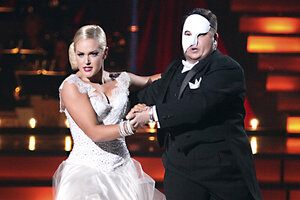 Adam Taylor/AP/ABC
Chaz Bono made his exit from the "Dancing with the Stars" ballroom last night. Mr. Bono's run on the show was a bumpy one: His initial casting on Dancing with the Stars in August as the show's first-ever transgendered contestant generated nasty comments and a warm outpouring of support in equal measure. Once the dancing actually started, Mr. Bono battled injury and endured the judges comparing him to an Ewok, a penguin, and a teddy bear.
Those comments didn't lead to high judges' scores. Bono survived week after week because of the love from his fans and the power of his personal story.
But as the pool of competitors shrank on DWTS, it got harder and harder for Bono to survive on fan support alone.
It's a dynamic you can see on any reality competition show that combines fans' and judges' votes. As time wears on, the judges' opinion becomes increasingly important.
The process works something like this. (I'm speculating here because the shows don't reveal the actual voting results of fans or judges.) In the early rounds of the competition, some personalities have, or attract, an initial bigger fan base than others. So audience votes can outweigh the judges' opinions.
That's why in early weeks of DWTS, technically strong, high-scoring competitors Kristin Cavallari and Chyna Phillips exited the show. They were felled by low viewer votes, exiting the ballroom, in the judges' estimations, before their time.
---