Stock market's message: Maybe things aren't so bad after all?
Stock market powered forward Thursday with the Dow rising nearly 340 points. By one measure, October could be the Dow's best month ever. Behind the stock market optimism is there a sign of economic hope?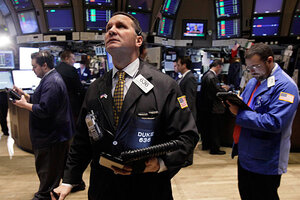 Richard Drew/AP
The stock market seems to be trying to send a message: the economy may not be so bad after all.
In a remarkable surge, the Dow Jones Industrial Average is on track for the largest monthly percentage gain in its 115-year history. The last time the Standard & Poor's average had such a good month was November 1974, when Gerald Ford was president. Some of the market averages are now showing gains for the year.
On Thursday, after word that European leaders had reached some sort of agreement on their debt crisis, the stock market started strong and the Dow finished with a gain of 339.51, its strongest gain since Aug. 11. Unless the market stumbles badly on Friday, it would be the fifth consecutive week of gains.
There are important implications for the economy if the stock market remains strong. The stock market is often viewed as a leading indicator of the economy. In addition, most Americans see reports of the market's moves, which can lead to growing consumer confidence. And, finally, many CEOs look at their stock prices every day and may view a strong market as a green light for expansion.
"Most companies are right in the middle of setting their budgets for 2012, and when they see the market surge, they might rethink any conservative plans they have," says Fred Dickson, chief investment strategist at D.A. Davidson & Co. in Lake Oswego, Ore.
---