Top costumes for Halloween: Nicki Minaj, Angry Birds, Captain America top 2011 lists
Top costumes for Halloween: The best selling Halloween costumes for 2011 range from rapper Nicki Minaj to Angry Birds, depending on the source.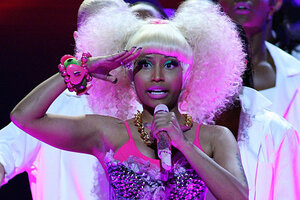 REUTERS/Steve Marcus
The hottest Halloween costume in 2011?
Rapper Nicki Minaj is the No. 1 most popular search for Halloween costumes on Google, according to the New York Daily News.
There are very few off-the-shelf Nicki Minaj costumes, but plenty of online marketers are stepping in to fill the Niki Minaj prepackaged void. "In a tutorial with 300,000 views, a YouTube poster shares tips on applying vibrant makeup, picking the perfect pink-infused outfit (down to the animal-print shoes) and finding the right wig," notes the New York Daily News.
But which Halloween costumes are the bestsellers depends on your source, when you conduct the research, and how you slice and dice the data.
According to Time, the most popular Google searches for Halloween costume: 1. Angry Birds 2. Black Swan, 3. Playboy Bunny.
Nicki Minaj doesn't show up until No. 4, according to Time.
Check with SortPrice.com, the online Halloween bestsellers among adults are Captain America, the Green Lantern, and Where's Waldo. No Nick Minaj in sight. For kids, it's Harry Potter, princesses, and the Green Lantern.
Paul McIntire, sales associate of Halloween City, in West Bloomfield, Mich., told Patch.com that zombies, vampires, pirates, and medical staff are the most popular costumes for adults in their store.
---