Cardinals, Rangers go 7. Will this Series boost baseball?
The Cardinals and the Rangers played yet another game for the history books. Will this Cardinals-Rangers epic help generate interest in future World Series?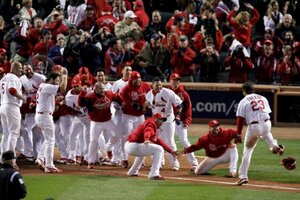 Jeff Roberson/AP
Six exhilarating World Series games. One more to go.
But will the thrill of this World Series translate into heightened interest in the Fall Classic next year, or will the excitement subside after the final out?
Tonight's Game 7 has a lot to live up to. Thursday night's World Series Game 6 between the St. Louis Cardinals and the Texas Rangers may go down as one of the greatest in history.
"The greatest game I've ever played in," said Cardinals' right fielder, Lance Berkman said of his team's 10-11 comeback victory over the Rangers.
"In the 31 years I've been alive and the 11 years I've been in the big leagues, this was pretty special, man," said Cardinals slugger Albert Pujols, whose Game 3 heroics were just the beginning of the legendary play that has become par for the course this World Series. "This is what baseball is all about."
In a matchup that has been this good, with historic pitching and hitting performances from both ball clubs, a litany of wild finishes, and Texas manager Ron Washington's dugout dances, anything less would have been a letdown. But has it translated to heightened interest?
There were early indications that the TV ratings were getting better and better as the matchup between the Cardinals and the Rangers progressed. But despite the thrilling games, not to mention the increasingly emotional gushings of TV commentators and sportswriters around the country, last night's Game 6 didn't get quite the viewer love it deserved.
The game did win the ratings night for FOX, crushing the Thursday night competition with a Series-high 17.54 million viewers. But that was an 11 percent drop from the last Game 6 in 2009, when the New York Yankees beat the Philadelphia Phillies 7-3 to clinch the World Series title. Two years ago, 22.3 million people watched that game, and it wasn't nearly as exciting as last night's matchup.
---