Is Canada's oil more ethical than Saudi Arabia's?
To boost support for a US pipeline for its oil sands crude, Canada claims it's more ethical than the Middle East. Is there such a thing as ethical oil?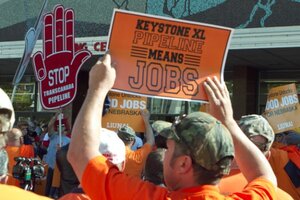 Nati Harnik/AP/File
Canada's government and oil industry want Americans to stop thinking of heavy Alberta crude as "dirty oil" and start thinking of it as "ethical oil."
Canadian diplomats have been making the rounds with US policymakers while a lobby group for the industry recently put out a television commercial comparing Canada's record on women's rights with that of Saudi Arabia with the tag line: "Ethical oil from Canada's oil sands. A choice we have to make."
It's an intriguing idea that oil can be ethical depending on where it's extracted. The effort to rebrand the Alberta oil sands comes against the backdrop of increasing opposition from US and Canadian environmentalists and others to the Keystone XL pipeline. The $13 billion project will carry the viscous crude from northeastern Alberta, across several Midwestern states, to refineries in Texas and the Gulf Coast. That is, if the Obama administration approves the transborder development.
---