Markets swoon, hit by thunderbolt news of a Greek debt referendum (video)
Stock markets in the US and Europe fell Tuesday, stunned by news that Greeks will vote in January on national austerity measures tied to resolving Greece's sovereign debt woes.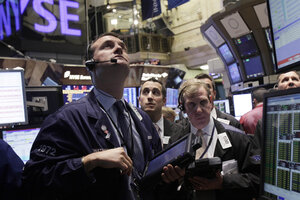 Richard Drew/AP
Only last week investors were plowing money into stocks, making October one of the market's strongest months ever. Now they can't sell stocks fast enough.
As of noon Tuesday, the widely watched Dow Jones Industrial Average had fallen about 300 points, after losing 276 points on Monday. What happened? In a word: Greece.
After Greek Prime Minister George Papandreou announced a January referendum on national austerity measures, US and European stock markets began drawing up scenarios – almost none of them positive.
"If the austerity plan is shot down [by Greek voters], then do the European Union and the IMF [International Monetary Fund] lend Greece any more money?" asks Jay Bryson, an international economist at Wells Fargo Securities in Charlotte, N.C. "If not, then we are looking at a default here."
"People are saying if Greece votes down the austerity plan, they are out of the eurozone," says Eric Stein, a vice president of Eaton Vance Management in Boston. "In a best-case scenario, they vote in favor of the plan and resolve the issue. But there is also a big chance of a downside scenario where they vote down the plan and the government of Greece gets no more aid and is forced to restructure its debt or do more politically unpopular things."
---
Follow Stories Like This
Get the Monitor stories you care about delivered to your inbox.