Walmart Black Friday 2011: ad kicks off early holiday shopping frenzy
Walmart Black Friday 2011 ad is whipping up Black Friday furor earlier than ever. But with long lines and huge crowds anticipated, is Walmart Black Friday 2011 really better than getting a jump on your holiday shopping this Veterans Day?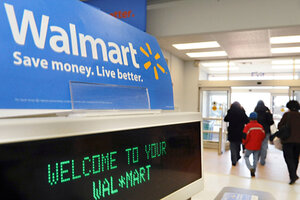 Lisa Poole/AP/File
Walmart is getting an early start to Black Friday, the biggest shopping day of the year. The discount retail giant released its Black Friday ad Thursday, announcing that this year the store's doors will open at 10 p.m. on Thanksgiving night for discounts on home items, clothing, and toys. Electronics will go on sale two hours later, at midnight.
Among the items you can grab at 10 p.m. after your feast: a $67 ping pong table, a slew of DVDs for $1.96 apiece, and a 4-quart Crock-Pot for under $10 (regular price is closer to $25).
Perhaps as surprising as the deals is the timing of the ad for Walmart Black Friday 2011. Last year, Walmart didn't announce its Black Friday deals until Nov. 22, meaning this year's revelations are coming a full 12 days earlier than before. But the early Walmart announcement is just the latest in a trend of stores getting an earlier and earlier start to the Black Friday rush: For the first time, Gap, Old Navy, and Banana Republic are opening their stores at midnight on Black Friday, joining Macy's, Kohl's, and Target, which have done it before.
"Thanksgiving night openings are much more common now," says Dan de Grandpre, CEO of dealnews.com, a website that tracks sales at large retailers across the country. "Deals are going to be much better at that time. But you have to get up earlier and earlier, or those stores will be picked over."
The hubbub over the early Walmart announcement comes in the wake of projections for a fairly average holiday shopping season. Erik Johnson, an economist with IHS Global Insight, is predicting a 4.2 percent growth in overall holiday sales over last year. "To put this in perspective, 2010 holiday sales were up 5.2 percent and 2009 sales were down 0.4 percent," Mr. Johnson says in e-mail.
Some are predicting more shoppers, however. According to Business News Daily, a recent consumer survey from the digital technology advertising company SocialVibe is projecting a 52 percent increase in the number of Black Friday shoppers from last year. That means longer lines and much bigger crowds, which may be part of the impetus for retailers to extend their hours. [Editor's note: An earlier version misspelled SocialVibe. It's one word.]
---