Debt 'super committee': the Grinch that stole the Christmas stock rally
The apparent inability of the 'super committee' to reach a deal, along with European economic woes, is causing angst on Wall Street. The Dow is down 300 points.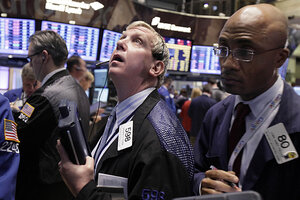 Richard Drew/AP
Europe's continuing debt problems combined with the apparent inability of congressional leaders to reach an agreement on ways to cut the US budget deficit are causing angst on Wall Street.
In a holiday-shortened week, many investors have decided the safest place for their money is someplace other than the stock market. Through the first half of trading, the widely watched Dow Jones Industrial Average is off 300 points, the largest drop since Nov. 9.
Although it is no surprise that the so-called "super committee" of legislative leaders cannot reach an agreement on cutting $1.2 trillion from the budget over 10 years, some investors say it shows that partisan gridlock is still alive and well.
[Editor's note: The original version of this story reported that the super committee would need to find $1.5 trillion from the budget over 10 years.]
"It sets the mood," says Mark Lamkin, CEO of Lamkin Wealth Management in Louisville, Ky. "The super committee is the grinch that stole the Christmas rally."
At the same time, European leaders are having difficulty reaching agreement on how to resolve their own debt problems. Germans are resisting the idea of some sort of pan-European issuance of bonds to replace those sold by individual countries. As a result, like the US, German policymakers are deadlocked.
---