For US and global economies, debt is a four-letter word
It's hard to conclude anything else: Debt – owed by households, governments, and banks – lies at the heart of the economy's troubles. Even after two years of recovery, debt remains a big drag.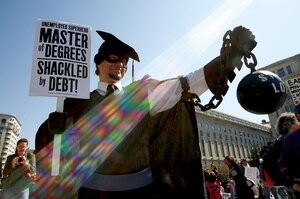 Jacquelyn Martin/AP
If you want to trace the weakness in the US economy to one root problem, here it is in a word: debt.
To many economists it's a conclusion that's hard to avoid. The lingering effects of a credit boom and bust continue to hinder a strong economic recovery.
Lest we forget, debt problems were the precipitating cause of the deep contraction of 2008. And still today, US consumers remain saddled with historic debt burdens. What's more, government borrowing has soared to worrisome levels, and banks face piles of bad loans – a problem that makes them less able to provide new credit to the economy.
Of course, borrowing in itself isn't necessarily good or bad. When used with moderation and for useful purposes, credit is actually a major fuel for economic growth. The word "leverage," employed by finance types as a synonym for debt, rightly implies a tool – a kind of force multiplier.
But when debts grow too large, the multiplying effects can turn negative. And the fallout can be stagnation that lasts for years. That's the risk facing the US and world economies today.
The urgency of the debt issue is visible in Congress, as a 12-lawmaker "super committee" has struggled without success to strike a deal taming chronic federal deficits. It's visible in the Obama White House, which recently stepped up efforts to help at-risk mortgage borrowers refinance troubled home loans. And it's apparent in Europe, where efforts to contain a government-debt crisis are at a critical stage – with spillover implications for the rest of the world.
But if the problem of debt is simple to identify, it's mighty hard to fix. Divided power in Washington, with Republicans and Democrats not seeing eye-to-eye on policy, is just one part of the challenge.
---