Black Friday 2011 deals: How about 20 percent off a new car?
Looking for a great deal on Black Friday 2011? You could elbow your way through big-box stores. But don't forget car dealerships, where new-car discounts may run in the thousands.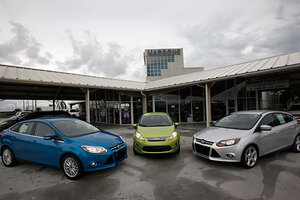 Wilfredo Lee/AP/File
The phrase Black Friday conjures up images of crowds thronging big-box retail stores, and for good reason. But when you think of the low-price deals available this Friday, don't forget those big-ticket items on four wheels.
Some of the day's hottest bargains will be found on the auto mile, not at the mall, say automotive experts.
"Dealerships offer significant discounts on Black Friday, which can save consumers thousands off the purchase of a new vehicle," says Jesse Toprak of the car-shopping website TrueCar.com in a report on the deals. "It's an atypical day to purchase a car since consumers think of retail shopping, but buying a new vehicle on Black Friday can often lead to big savings."
The website says it's the best day of the year to bargain for a lower new-car price, and that the rest of Thanksgiving weekend also offers good buying opportunities.
Consumer Reports published a list of new cars, from its "recommended" list, with deals this weekend of 15 to 20 percent off the manufacturers suggested retail price (MSRP).
Its list includes a broad range of mainstream 2011 models: the Toyota Camry, Ford F-150 pickups, Cadillac DTS, Honda Pilot, Nissan Frontier and Maxima, and a number of Chevrolets (Malibu, Traverse, Suburban, and Corvette). A few 2012 models are also on the list, including the Ford Mustang and Chevy Avalanche.
---