Cyber Monday deals: Is Amazon saving best for last?
Cyber Monday was Amazon's peak sales day last year. Amazon will want to lure shoppers again this year with great Cyber Monday deals.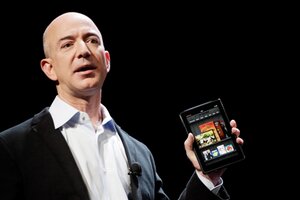 Mark Lennihan/AP/File
Black Friday lured in shoppers, doled out discounts, and rang up big sales for many retailers. But the great buys aren't over. Cyber Monday deals still lie ahead – and that's the day that major retailer Amazon.com expects to shine.
The Seattle-based company, which has been featuring big but limited-time holiday deals for the past week, could be poised to pull out all the stops to attract online shoppers for Cyber Monday.
"Keep an eye out, because they will price match almost everything but clothes," says Dan de Grandpre, chief executive officer of dealnews.com, a website that tracks sales at large retailers across the country.
Last year, Amazon says it sold more items on Cyber Monday – a record-breaking 158 items per second – than on any other day of the year. This year, the company has leaked some of its Cyber Monday deals via a press release. They include an XBox 360 250-gigabyte game console and holiday bundle of games for $199, a sale price that no other retailer seems to be matching. Walmart offers the same bundle for $299, Best Buy offers the console alone, refurbished, for $249.
Another Amazon deal: a Mercer Cutlery Genesis 6-Piece Knife Set in a tempered glass block for $99, at least $20 less than competing retailers. Amazon is sure to offer more.
"In terms of ordering online, Amazon is more refined [than other retailers] because it's their core product," says Michael Brim, founder of BFAds.net, a website that tracks Black Friday deals. "Walmart sometimes offers in-store pickup that isn't necessarily guaranteed, even if you order it online. Amazon is usually more likely on the ball, less likely to have online items out of stock."
Case in point: At some point during Cyber Monday, Amazon will be offering a Sony Cybershot DSC-HX5V 10.2-megapixel digital camera for $199, $20 less than the lowest price from any retailer on a Google product search. Walmart actually sells it for $10 cheaper online, but it's not available currently.
And if you're in the market for certain items, Amazon is definitely worth watching on Monday.
"Definitely the books and videos and computer games and all that stuff, Amazon is the leader," says Max Levitte at Cheapism.com, an online deal site. "In electronics generally, Amazon is better, because they have a larger selection."
Here are other Cyber Monday deals Amazon has revealed so far:
Pentax K-5 Digital SLR (Body Only): $999 (save $200)
Nokia N8 (Unlocked): $299.99 (save $249)
Monster Diddybeats Headphones: $59.99 (save $89)
Save 50% off select Hasbro games
Save up to 50% off select VTech electronic toys
$25 off purchase of $100 or more on DEWALT tools
Save more than 40% off select TechnoMarine watches
Freshwater Cultured Pearl Button Stud Earrings, Set of 3: $16.99 (save $63)
Save 25% off orders of $75 or more on select brands in Shoes & Accessories
Save up to 60% off sweaters and fleece for Women, Men, Kids and Baby
Bodum Bistro Electric Handheld Immersion Stick Blender (Orange): $49.99 (save $50)
Panasonic Linear Vortex Shaving System: $78.99 (save $171)
Bissell PowerEdge Hard Floor Vacuum: $29.99 (save $20)
Popular album titles including "Stronger" by Kelly Clarkson, "Metals" by Feist and "Bon Iver" by Bon Iver (MP3 Downloads): $4.99 each
"Twilight" series DVDs: $6.99 each
---
Follow Stories Like This
Get the Monitor stories you care about delivered to your inbox.