Central banks ease liquidity. Did they avert meltdown?
Central banks in a surprise announcement Wednesday announce moves to ease strains in the global financial system. Central banks' moves should ease concerns over European banks but does not begin to solve long-term problems of European debt.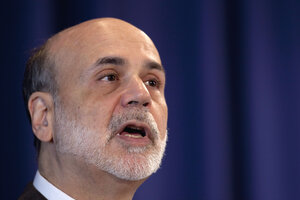 Carolyn Kaster/AP/File
Did the Federal Reserve and five other central banks just avert another financial market meltdown?
In a surprise announcement Wednesday, six of the world's most important central banks announced they would "enhance their capacity" to provide liquidity to the global financial system. Their aim: to ease strains in the financial markets since bankers had started to pull back on their lending to each other as well as to households and businesses.
The news of the central bank actions jolted the world stock markets. The German market moved up 4 percent and by mid-morning the Dow Jones Industrial Average had gained nearly 400 points.
Independent economists believe the main goal of the central bankers' actions is to help provide European commercial banks with access to US dollars. In recent months, US money market funds have curtailed their lending to European banks because of concerns over their holding of sovereign debt of such countries as Greece and Italy. This has forced them to scramble to get funding for themselves.
"If the European banks are really in bad shape, this could be helpful," says Robert Brusca, of Fact & Opinion Economics in New York. "But it does not solve any of the longer-term problems. It does not provide funding for countries that need it."
---