Wall Street blowout: the start of a 'Santa Claus' rally?
Stocks soar on surprise move by six central banks and better news on US economy. Wall Street is looking for a year-end rally, although rally skeptics abound.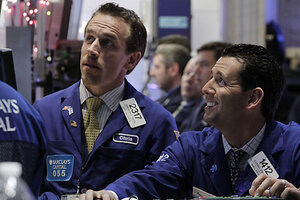 Richard Drew/AP
Call it a blowout rally on Wall Street – maybe even the start of what has sometimes been called the "Santa Claus rally," which in some years has given investors a holiday boost to their portfolios.
On Wednesday, the widely watched Dow Jones Industrial Average soaring 490.05 points to 12,045.68, up about 4.2 percent, its best one-day gain since 2009. The big move means that many stocks are now higher than they were at the beginning of the year.
So, is this a good time to buy stocks if they are poised to rise through the end of the year? Or is this an even better time to unload them, taking advantage of the higher prices?
To answer those questions, some investors say it's important to look at the fundamentals.
Market analysts say the main reason the market rose sharply on Wednesday was the move by six major central banks, including the Federal Reserve, to try to strengthen liquidity for European banks. The idea is to help some of these banks get supplies of dollars needed to fund their US operations and make loans. At the very least it might give banks more confidence to lend to each other, analysts said.
"You don't fight the Federal Reserve," says Mark Lamkin of Lamkin Wealth Management in Louisville, Ky. "And when you do, most people have lost."
---