After Christmas sales: Your guide to snagging them, online or in person
After Christmas sales offer bargains both online and in-store. Here's a guide to finding them, as well as rules for using gift cards and making returns.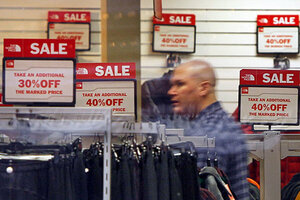 Robert F. Bukaty/AP
For shoppers who still have some energy left, and some dollars, Dec. 26 is one of the premier bargain-hunting days of the year.
The deals run literally from "A" (offers at Aeropostale include what they dub a "$5 T-shirt riot") to "Z" (Zales has clearance markdowns on lots of jewelry).
Some shoppers use the day to scour for bargains on items that stores couldn't sell before Christmas. Others are using gift cards they just received. Still others are in the process of returning or exchanging items they recently bought or were given.
Here are some tips on navigating the after-Christmas retail scene:
The sales. Deals can be both online and in-store. Shopping websites such as Retailmenot.com can help you expand the savings by showing coupons for specific stores and items.
The website Dealio.com has an "after Christmas" sale page that breaks down deals by category.
Focus on what you want to buy, not just on what stores want to sell. And think outside the box. Clothing is not all that's on sale. You might save some money planning a spring or summer vacation (Southwest Airlines Vacations is among the travel sites offering discounts).
Be prepared for a bit of chaos at the store. Remember that the stores and their staffs have been through a hectic couple of weeks. You may see bargains, but also some disheveled display racks. According to ShopperTrak, Dec. 26 is among the top 10 busiest shopping days of the year.
Online versus in-store. Shopping online can have a lot of advantages: No hassle of driving and parking, and a quick click will tell you if items are in stock. But note that the prices can vary: Sometimes the best price on a given item is in the store, sometimes it's on the website, and sometimes both prices are the same.
---