More small firms expect to buy workers new iPads, tablets in 2012
Just when Apple may be poised to unveil a sparkling upgrade to its iPad, many small firms of fewer than 1,000 are looking to buy new tablets for workers. Demand for tablets is up, a new survey finds.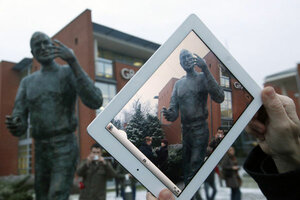 Laszlo Balogh/Reuters
Here's good news for workers at smaller companies: More bosses are thinking about buying employees a new iPad just as Apple is rumored to be unveiling a new, higher-resolution version of the popular tablet.
That is according to a new survey of small businesses – those with fewer than 1,000 employees – by NPD Group, a business research firm. Some 73 percent of the small firms surveyed say they plan to purchase tablets over the next 12 months – up 5 percentage points from NPD's previous quarterly survey. Nine in 10 firms surveyed say they will maintain or increase their previous spending on tablets.
When small businesses are making plans to purchase tablets, the iPad is the most frequently considered brand, Stepehn Baker, vice president of industry analysis at NPD, said in a statement. "The iPad, just as it is in the consumer market, is synonymous for 'tablet' in the business market," he said.
The small business urge to buy iPads comes as Apple is rumored to be about to roll out two new models of the popular device. For example, the website DigiTimes predicts that two new versions of the iPad will be released in January. Other reports place the release later in the first quarter of 2012. Apple does not comment on future products. But the rumor mill expects the new tablets to have a more powerful processor, a higher-resolution screen, and a more capable camera.
---