Dodge Dart returns at Detroit Auto Show, 36 years after ceasing production
Dodge Dart fans saw production of their beloved compact cease in 1976. The return of the Dodge Dart at the Detroit Auto Show signals a change of priorities for the US auto industry as it seeks to grab more market share.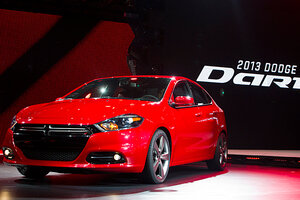 Tony Ding/AP
The Dodge Dart has long held a place in automotive lore for its sleek, space-age design and 16-year run as Chrysler's ultimate compact car, ending in 1976.
Thirty-six years after it ceased production, it's back. On Monday at the North American International Auto Show [NAIA] in Detroit, Chrysler unveiled a resurrected Dodge Dart, which is now a compact, four-door sedan designed to target pragmatic buyers interested in low upfront costs and long-term fuel savings.
The refurbished Dart is a sign of shifting priorities set by the domestic US auto industry. While two bankruptcies and rock-bottom sales appeared to shake the foundation that General Motors, Ford Motor Co., and Chrysler once stood for – a reliance on large, gas gulping trucks and SUVs – the automakers appear to be directed to a steady comeback that is sustainable and tailored to what cash-strapped consumers ultimately want.
The combined sales of all three companies in 2011 increased US market share, the first annual increase since 1991. While all three enjoyed double-digit sales bumps, Chrysler had the greatest rate increase, jumping 26 percent over 2010, resulting in 1.4 million vehicles sold in the US alone.
---