CES: Why car gadgets are making inroads at Las Vegas electronics show
At CES, six of the top 10 automakers are promoting their technological gadgetry, an increasingly important factor in car sales. The Las Vegas electronics show is coinciding with the Detroit Auto Show.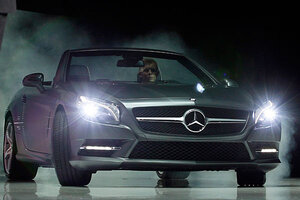 Rick Wilking/Reuters
The annual International Consumer Electronics Show in Las Vegas allows tech geeks a chance each year to check out soon-to-launch gaming systems, flat-screen televisions, and mobile technology.
But this year, the show, which opened Tuesday and runs through Friday, will offer attendees a newly expanded area in which high tech is increasingly prevalent: their cars.
Detroit is leaving a bigger footprint than ever on the annual trade show, which is the world's largest for consumer technology. Six of the top 10 automakers are exhibiting, one more than last year.
The Consumer Electronics Show (CES) is taking place the same week as the start of the North American International Auto Show (NAIA) in Detroit, a synergy that is not coincidental: According to the Consumer Electronics Association in Arlington, Va., the value of technological gadgetry that will be factory-installed in vehicles is expected to reach $7 billion in 2012, a 16-percent increase over 2011.
With more new vehicles designed to link buyers up with their smart phones, digital media players, and other portable devices, automakers' sales pitches are increasingly accentuating the cars' lifestyle components and not just their speed, body design, and performance.
"Automakers have really found that technology sells cars," says Doug Newcomb, senior technology editor for Edmunds.com, who is attending the trade show this year.
As consumers show more reliance on portable devices, carmakers are now eager to show them how they can use them seamlessly on the road.
---