The job-shifters: people who reinvent themselves mid-career
How many professionals are creating second careers in an unforgiving economy? Meet six who did it successfully.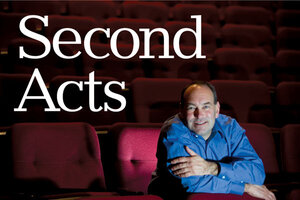 Ann Hermes photo
Contributing to this report were correspondents Margaret Price in New York; Steve Dinnen in Des Moines, Iowa; and Todd Wilkinson in Bozeman, Mont.
Ryan Blair had never read a book in his life. But there he was in juvenile detention – in solitary confinement because he'd been fighting – with little to do. There was no furniture, only a bed and a Bible. So he turned to the book of John and read a verse out loud. He hesitated, almost stuttered.
The unfamiliar words sounded weak. He read the verse again. And again. He kept reading, until he could say it loudly and confidently. And he dreamed. Instead of the blank cell wall in front of him, he imagined he was reading to a huge audience. It was the first of many dreams that would take him from troubled 16-year-old, petty thief, and gang member to a new place in life.
Beverly Belzer had worked at the refrigerator factory through a succession of owners. Each time the plant changed hands, she wondered if her job in the print shop would be safe. When the fourth owner, Whirlpool Corp., took over, the end came swiftly.
Despite her 19 years at the factory, her pink slip included no severance or accrued vacation pay. There she was, a 51-year-old grandmother in eastern Iowa with no college degree at the trough of the worst economic downturn since the Great Depression. It was Thanksgiving 2009.
---