'$16 house' scheme gets man kicked out of $340,000 home
$16 house? Not really. Dallas man gains notoriety for his curious housing scheme. However, he was kicked out of the $16 house on Monday.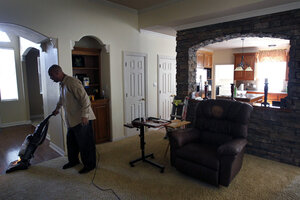 Tom Fox/The Dallas Morning News/AP
After paying $16 to file a one-page claim to an empty, $340,000 home in an upscale Dallas suburb, Kenneth Robinson moved in furniture, hung a "No Trespassing" sign in the front window and invited television cameras inside for a tour.
He quickly turned into something of a local celebrity, creating a website — http://16dollarhouse.com — where he sold an e-book and offered training sessions for would-be squatters. And while real estate experts and authorities say he's misusing the law, Robinson appears to have inspired dozens of imitators who moved into Dallas-Fort Worth area homes — some of which were still occupied by their owners.
But Robinson's time in the house ran out Monday.
Bank of America wants possession after foreclosing on the home last month, and a judge on Monday gave Robinson until Feb. 13 to appeal or move out. Rather than wait to be evicted, Robinson slipped out before sunrise Monday, skipped a morning court hearing and refused to say where he was moving next.
"It's been a huge learning experience," he said in a phone call with reporters.
On his website, Robinson describes himself as a savvy investor who's part of a "paradigm shift" in which people have taken over abandoned homes. In his "adverse possession" claim filed in court last June, he promised to pay taxes and homeowners' association fees while living in the house. He kept the lawn outside mowed, and the front clean.
Robinson spoke to The Associated Press last week while standing at the front door of the two-story, 3,200-square-foot home with a backyard pool. He declined to discuss his background or say how much money he made from book sales or seminars related to his takeover.
---