Presidential elections are good for stocks, but ...
The trend: Since 1952, stocks have risen in the last seven months of every presidential election except two. The trouble: Both exceptions occurred in the 2000s.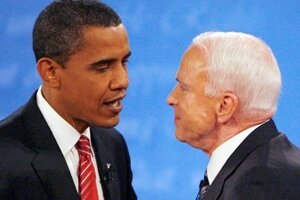 Jim Bourg/Reuters/File
For investors wondering what 2012 will bring, Montana-based InvesTech Research has a hot tip: Stay in stocks.
"The fact that we're approaching a Presidential Election likely improves the chances that this will be a good year for the stock market," writes James Stack, president of InvesTech Research, in a recent portfolio strategy report. He especially likes the energy, health-care, and technology sectors because they're poised for growth and offer some attractive valuations.
It's a strategy based on precedent. Going back to 1836, the Dow Jones Industrial Average (DJIA) has climbed an average 5.8 percent in presidential election years. That's better than in the first two years of presidential terms, when the Dow has returned an average 2 percent and 4.2 percent respectively.
The last seven months of an election year almost always juice stockholders' portfolios. They've delivered positive returns for S&P 500 stockholders in all but two election years since 1952.
The correlation is no coincidence, according to analysts who specialize in long-term cyclical patterns. Since politicians want to get reelected, they do all they can to postpone tough measures and instead keep public funds flowing into local economies, at least until after the elections.
"They can grease people's wallets before they go into the voting booth," says Jeffrey Hirsch, editor in chief of the Stock Trader's Almanac and author of "Super Boom: Why the Dow Will Reach 38,820 and How You Can Profit From It."
---