Valentine's Day gifts: How to save money on roses
This Valentine's Day, consumers will spend an estimated $1.8 billion on flowers, mostly roses. But high demand combined with an off-peak growing season can make Valentine's Day roses quite pricey. Here's how to save.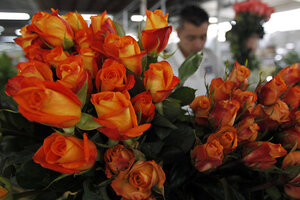 Jose Miguel Gomez/Reuters/File
In yet another sign that the economy may be on the rebound, shoppers are planning to shell out big bucks this Valentine's Day, to the tune of $17.6 billion, according to one estimate.
The average consumer will spend $126 to celebrate their loved ones, up from $116 last year, according to a survey conducted by the National Retail Federation, a Washington trade group. That's an 8.5 percent increase over 2011, and the highest spending level in the 10 years since the NRF began keeping track.
Of the $17.6 billion to be injected into the economy for love's big day, $1.8 billion of it will be spent on flowers (the only higher spending categories are jewelry, at $4.1 billion, and evenings out, at $3.5 billion. Surprisingly, Valentine's Day is only the third-highest ranked holiday in terms of flower purchases, behind Christmas (when people tend to buy flowers both as gifts and for decorative purposes) and Mother's Day.
But as far as fresh-cut flowers go, Valentine's Day is tops. The most popular flower, obviously, is the rose – all told, roses make up 71 percent of Valentine's Day flower purchases (red roses account for 42 percent; other colors, 29 percent, according to the Society of American Florists or SAF). All other flowers – tulips, carnations, peonies, daisies, and the like – make up a measly 29 percent. In 2010, 196 million roses were produced specifically for Valentine's Day, according to a report from Statistics Canada.
The rose is "the ultimate gift in today's market," says Michael Skaff, lead designer for FTD, an Internet and telephone marketer of flowers and gifts based in Downers Grove, Ill. "I just think that everyone understands that roses are the symbol of romance, and consumers feel like they're a high-value product."
---