Gas prices begin climb toward $4.50 a gallon, experts say
Gas prices could hit $4.50 a gallon nationwide by summer because of sanctions on Iran, a frigid winter in Europe, and logistical challenges in the US. The current all-time high is $4.11.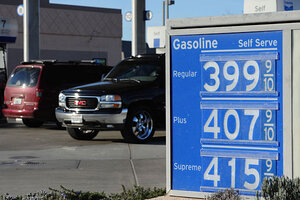 Debbie Noda/The Modesto Bee/AP
Many drivers are already grumbling at gas prices this winter. But by this summer, Friday's AAA average of $3.58 a gallon for regular gasoline may look downright attractive.
Some energy analysts think gasoline on a national basis could climb into the $4.50 a gallon range. That would be above the all-time peak of $4.11 a gallon set on July 14, 2008. In some states such as California, Hawaii, and Alaska, prices are normally higher and could get closer to $5 a gallon.
"We are on track for a very expensive summer," says Sander Cohan, a gasoline-market analyst and principal at Energy Security Analysis, Inc. in Wakefield, Mass.
During the past two weeks, the price of crude oil on the international markets has risen by $7 a barrel to about $120 a barrel, in large part because of uncertainty over Iran, which has threatened to disrupt oil supplies because of a tightening financial noose around it.
"All that has to happen is for a tanker to hit a mine and the prices will be jumping," says Mike Breard, an oil and gas analyst at Hodges Capital in Dallas. "A lot of people are afraid of oil rising to $140 a barrel."
Every $1 rise in the price of oil ultimately results in an increase of 2.4 cents a gallon at the pump if the price stays up.
---